Off White has stepped into a rather new territory – perfume. This drop comes after clues at Paris Fashion Week, and now a new genderless range named "Paperwork" has been unveiled, a four-part collection of genderless fragrance, makeup, and nail polish.
The fashion label have released their first perfume following in the footsteps of other luxury giants such as Chanel, Dior, Valentino, Burberry, Tom Ford, Gucci, Hermes, Giorgio Armani, Marc Jacobs, and Givenchy.
Paperwork was brought to life by Abloh before he passed last year with the genderless range created to enable people from all backgrounds to express their true selves, describing the project as "another canvas, another surface for human expression." The packaging also mirrors Abloh's style as each fragrance bottle is capped with a grip control knob, giving an industrial heavy look.
As for the actual scents, Alexis Dadier led 'Solution No. 1', inspired by the texture and aroma of sand, bringing out a woody aroma. Jérome Epinette was next to lead No. 2 which mainly smells like fresh citrus over a smoky vetiver base. No. 3 by Sidonie Lancesseur combined pink peppercorn with rose and amber, making a musky floral. Finally, Epinette also created No. 4 – a cocktail mixture of eucalyptus and lavender with a leather base.
The range, which begins with perfume, will branch into make-up and nail polishes as soon as possible. Whilst the product features four scents, six face and body pigment crayons, stencils with the same number of nail polishes also join alongside. These are cleverly named "Imprint," (pigment crayons) and "Template," (face and body stencils) and "Color Matter" (nail polishes).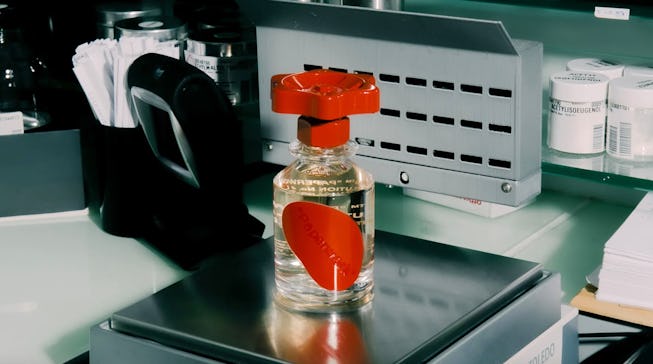 All four Solutions are available now at Off-White™'s website here, and the three additional collections aforementioned will be available soon.