Online Ceramics is an LA based clothing company, known for their tie-dyed designs, have linked up with outdoor and activewear giant The North Face to commemorate World Earth Day (22 Apr). The collection also signifies the debut of The North Face's Re-Grind platform, a big move towards its mission to use only regenerative, renewable, and recycled materials by 2025.
Inspired by '70s California climb culture, the collection pieces are also made with '75% or create recycled or organic fabric content', which allows North Face to boast the "Exploration without Compromise" badge of honour.
The Re-Grind innovative process being reproduced by North Face means old scraps can be transformed and repurposed into something new, that is wearable and fresh. The aim is to commit to convert 100% of its top materials to become recycled, regenerative or renewable within the next 3 years.
Co-founders of Online Ceramics, Elijah Funk and Alix Ross share how they have always wanted to design apparel with "positive messages that encourage people to shift their way of thinking." The predominant slogan shows "Always Be Your Sunshine," as The North Face's logo reimagined into a turtle carrying an old tree, and a plant pot describing the Re-Grind process.
Funk and Ross believe The North Face is known for "creating retro-inspired gear that celebrates Earth everyday." so it would make sense for them to collaborate for this particular celebration of World Earth Day.
The co-branded outerwear include field vests and mules, while the outdoor focused campaign displays functional gear with a bright green sleeping bag also with the bright yellow slogan, and a complimentary Borealis backpack.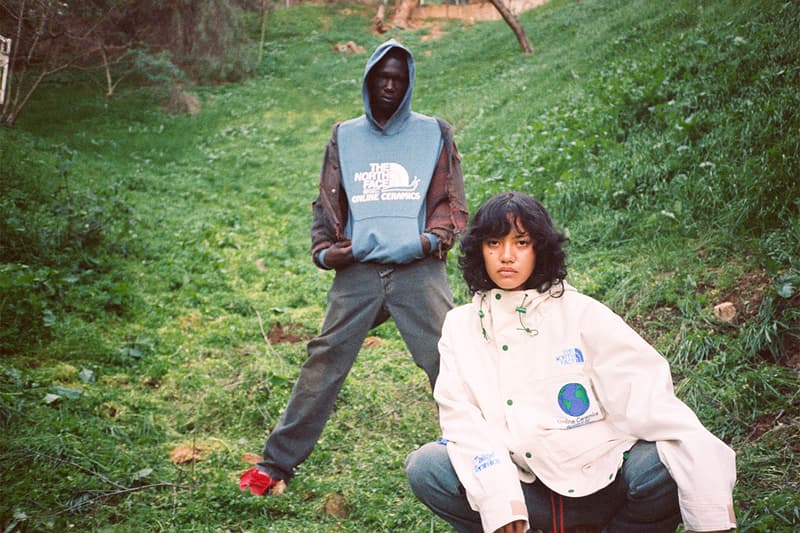 With alignment with the brand's mission to create quality products and reducing environmental footprint to a minimum, the products are stoppable online and via stores from today. The North Face's collaboration with Online Ceramics releases April 27 (EMEA) and April 29 in the US for XLR Pass members.
All Photos Courtesy of North Face.